chicken feed machinery
When it comes to chicken breeding industry, KMEC is specialized in chicken feed machinery production line for more than ten years. With scientific design and advanced technology, the chicken feed mills made by KMEC have achieved a high reputation all over the world.

Our Chicken Feed Pellets and Applications:
| | |
| --- | --- |
| | |
| Chicken Feed Pellets | Chicken Feed Pellets for Various Chickens |

However, there are two types of chicken feed machine, customers can choose either ring die or flat die feed mill according to your needs. If you pelletize for feeding livestock on your farm or at home, a flat die feed machinery is a suitable choice. But you want to do business, the ring die feed mill will definitely make you achieve a higher yield and larger profits.
Chicken Feed Machinery with Flat Die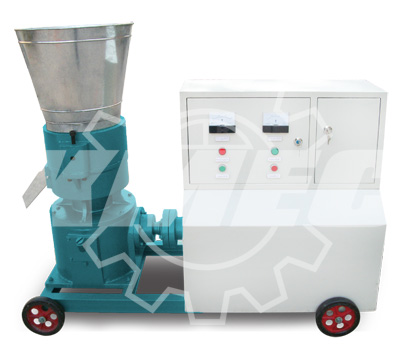 Technical Parameters:
| Type | Power(kw) | Output(kg/h) | Weight(kg) | Package Size(mm) |
| --- | --- | --- | --- | --- |
| ZLSP 150C | Three phase 4 | 90-120 | 105/125td> | 1000*480*780 |
| ZLSP 200C | Three phase 7.5 | 200-300 | 210/230 | 1050*550*830 |
| ZLSP 300C | Three phase 22 | 600-800 | 425/465 | 1300*620*1100 |
Chicken Feed Machinery with Ring Die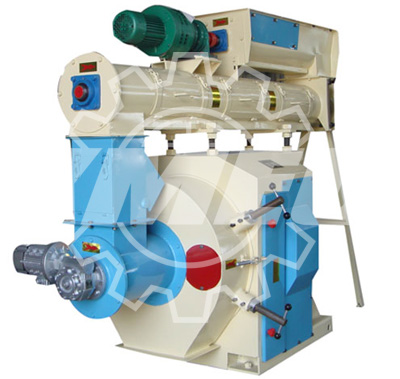 Technical Parameters:
| Model | Main motor power(kw) | Capacity(t/h) | Feeder motor power(kw) | Conditioner motor power(kw) | Ring die diameter(mm) | Pellet size(mm) |
| --- | --- | --- | --- | --- | --- | --- |
| KMPM420 | 110 | 3-12 | 1.5 | 5.5 | 420 | Ø2-Ø8 |
What do we need auxiliary equipments for chicken feed machinery production line? Chicken feed machinery not only means pellet mill, but also need to equip with other feed equipments which help pelletizing system finish the whole procedure like conveyor, crusher, distributor, mixer and dryer etc.. These equipments can perfect the quality of feed pellets and enrich the feed nutriton. For example, distributor will categorize quantitative raw material into various bins so that when pelletizing them, you can match with them for various purposes. In pelletizing system, the chicken feed pellet mill is mainly referred to the ring die design.
Other Auxiliary Chicken Feed Equipments:
Hammer Mill
Rotary Sieve
Pellet Mill Mixer
Counterflow Cooler
Packing Machine
Do you know how to make your own chicken feed at home? First, raw materials need to meet the specification, for instance, the dimension and moisture content should be proper for pelletizing. Second, raw materials are better to further process through pulverizing system and mix in a feed mill mixer. Most important process is pelletizing. Under the function of chicken pellet mill, the chicken feed pellets are finished. While the pellets need to be cooled in a cooler to avoid cracking due to high temperature. Finally, packing feed pellets with a packing machine is to store and transport easily.